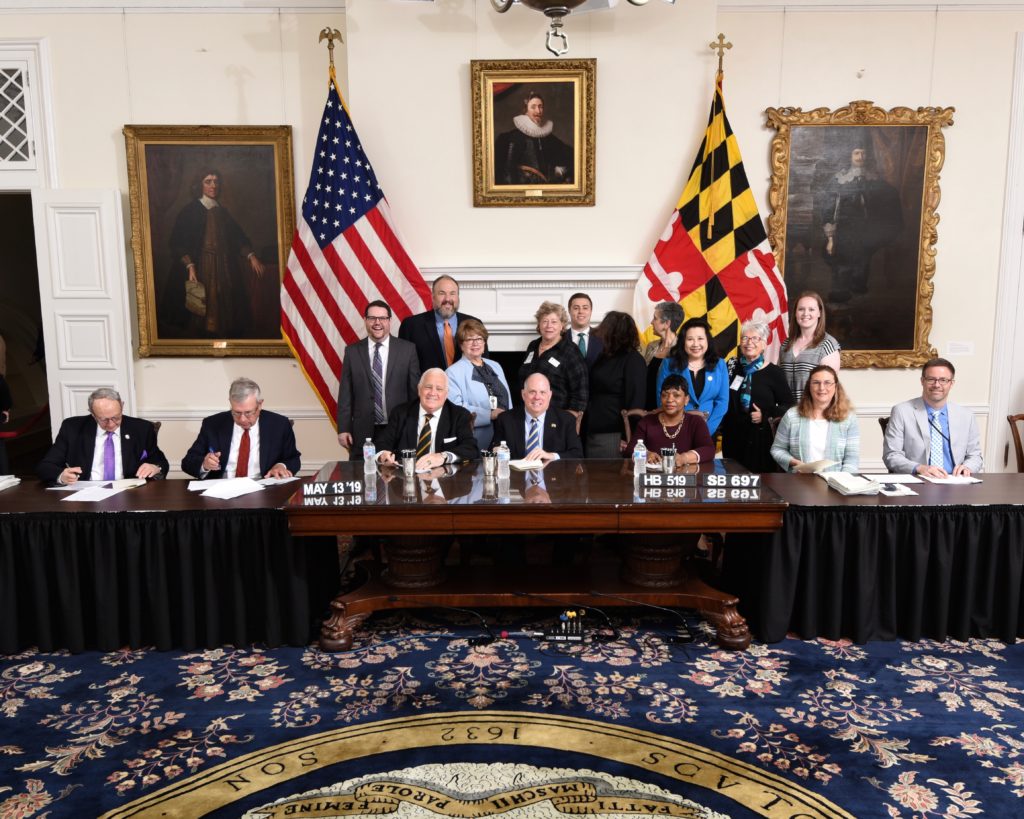 By: Valerie E. Anias, Esq.
On March 6, 2019, I testified before the Maryland Senate on Senate Bill 697.  Senate Bill 697 sought to redefine Parentage and to create a process for Second Parent Adoption.  On May 13, 2019, I appeared standing behind Governor Hogan to watch Senate Bill 697 be signed.    This day is a tremendous win for so many families in Maryland. 
The Before and After of a "Legitimate Child" and "Presumed Parentage"
Before: Maryland defined a "legitimate" child as one that was born as a result of a marriage between a man and woman, a child legally adopted, or a child conceived through artificial insemination with the presumed consent of the Husband. In practice, this meant that a child born between a married man and woman was presumed the legitimate child of both, regardless of the biological makeup. For example, if a woman in a heterosexual marriage used donor material, the husband was always the presumed parent and automatically received the title as a legal parent. However, lesbian couples in an identical situation – one gestational parent and one non-gestational parent – were not granted the same legal presumption. As a result, lesbian couples in an identical situation involving artificial reproduction were forced to petition a court to grant the adoption of their child by the non-gestational parent.
After: Effective June 1, 2019, a child born between a mother and her spouse is presumed to be the child of the spouse. Removing the identification of "husband" removed the implication that a legitimate child could only be born between a married man and woman. In just a few days, a child born from a mother is presumed to be the legitimate child of her spouse, regardless of sex, by virtue of being married. This enables both spouses to be considered the legal parent without having to formally adopt the child born as a result of their marriage. It should be noted that same-sex couples should still formally adopt their child to ensure safety as the legitimacy of the child would only be presumed in Maryland.
The Before and After of a "Second Parent Adoption"
Before: In some states, a second-parent adoption is different from a traditional adoption proceeding of two non-biological parents. In Maryland, however, there was no special rule or consideration for second-parent adoptions by same-sex parents or step-parents. The statute, Maryland Rule 9-103, which requires a doctor's letter, consent by the biological parent, proof of income, and various forms of "proof" that the adoptive parent is an appropriate candidate to adopt the child all apply. The non-gestational spouse/step-parent was forced to request the Court to approve, evaluate, and then determine their parentage of a child they have intentionally brought into this world in the same way a heterosexual married couple could have or raised as their own.
After: Effective June 1, 2019, the process for a step-parent or same-sex parent to adopt is much more simple and less invasive. It provides a separate process for parents using a surrogate or for a step-parent to adopt their spouse's child without having to navigate the waters of a traditional adoption. It allows parents to proceed as the intended parents of the adoptee.
This law allows families to establish themselves as families without belittling their status. It ensures children's safety and security, by removing complex procedures and technicalities to simplify the process of recognizing their parents. Formal recognition of a parent's "legal parentage" protects all aspects of a parent – child relationship such as ensuring that their child will be able to access that parent's health insurance, Social Security, and other benefits as the parent's beneficiary; whether the child will inherit after their parent's death; or whether the parent's relationship with their child will be legally recognized in states other than Maryland.
Put simply, this change recognizes families as families.  Love wins.